AMAZING SHOW ALERT!!!!!! OCT 29th 2023!!!!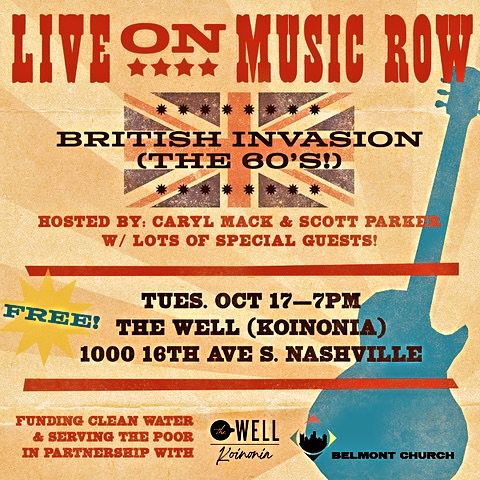 LIVE ON MUSIC ROW SHOWS:
Every other month I get to be a part of this amazing group of musicians that gather to play some of the greatest music ever written to unabashedly raise donations for clean water efforts around the world and local homeless ministries....join us !
   Julie Lee and Dan Wheeler originally met at Greenbelt Music Festival in the UK back in 2009. However. It was the somewhat recent move of Dan and his family from the UK to the US that ended up bringing the two songwriters together. They were both at Puckett's down in Leiper's Fork, TN, in 2018 for a songwriter's night when they realized their former UK connection. But the predestined collaboration really began when Wheeler invited Lee down for a co-write and a pint that resulted in their first song "Girl Without A Name".
Realizing the gift they'd been given, they went on to co-write several songs over the next two years including Long Lost Friend, Minor Chord, The Last Glow, & While You're Waiting. Just before the unforgettable spring of 2020, they began recording which has resulted in their new 5 song ep aptly titled..."While You're Waiting'. 
Considering the times they opted for a digital release and of all 5 tracks which are available today on Apple Music here