Julie writes about "Till and Mule":
"Several of these songs came to me in an unusual way. Till & Mule, the title track, came after digging in the dirt in my garden and then driving through the midwest while on tour. Each has a sense of place...a landscape. One, a mountaintop North Carolina ; Another, my home here in Nashville, and another; a road along The Brandywine River in Pennsylvania that I used to know like the back of my hand. I could go on and on but that would leave me no stories to tell.
Artistically what was different about making this record was that we began recording it over a year ago. Since I had used some of my 2012 Kickstarter support to do the initial recording and mixing, I decided we should sit on it while Julie Lee & The Baby-Daddies had its moment on the gallery wall. This afforded us the gift of time to rest and "step back from the painting." Unfortunately in a world of instant gratification, it was a rare opportunity to look at each song individually with the perspective only time and distance can give. The people I asked to pick up a paintbrush and add something to the canvas were each artists and musicians that I trust implicitly!  Aaron Roche, Nathan Phillips, Dan Burns, Jason Goforth, are dear friends that I have toured with and have appeared on or even co-produced past records. 
To start, Aaron  helped me decide to record at Gray Matters  in Nashville with engineer Mike Odmark , with whom he has made several records with over the years. Then we began by picking up our "paint and brushes" ,if you will, to outline the songs with myriad of musical instruments. Dan Burns (drums and percussion), then joined us to add the perfect amount of  foundation and texture  to the record. Jason Goforth, (Pedal and Lap Steel , and Harp) who had been playing these songs live with me on tour, came in to add the initial wash of color on the canvas. 
I then asked Nathan Phillips to take the canvas home to gently paint with his one of a kind vintage upright piano. We went ahead and did an initial mixing of the basic tracks 2012, then we let it rest. While remixing in early 2013 Mike helped me send the canvas to Aaron in NYC to compose and record string arrangements on two of the tracks and  suddenly it was finished.  Finally, Mike Odmark's refined mixing skills framed with Alex McCullough's Yes-Mastering genius created a result which is...well...one of my personal favorites.  
My sincere hope is that this music provides a quiet space...instead of just taking up more of your valuable internal real estate. My prayer is that a world defined by categorization is  "open to receive " something , yet again, completely different from my last record.  And that these songs give you ,the listener, the unique opportunity to step back from your own painting."  - Julie Lee
***************************************************************************************************************************************************************

Just when you think you can label Julie Lee into one category or genre, you hear something different.  Lee is a collage, a real scrapbook of various traditional American styles.  In her songwriting, as well as her work as a visual artist, Julie takes bits and pieces from each of her myriad influences to make something of her own that is both old and new.

Though a Maryland native, Lee has lived in Nashville, TN for over 20 years and travelled and performed extensively across the US and Europe. She has had her songs recorded by Country, Bluegrass, and Contemporary Folk artists, most notably and recently by Alison Krauss, who included Julie's songs Jacob's Dream and Away Down The River on her most Platinum-selling collection A Hundred Miles Or More.

SONGWRITING CREDITS:

Alison Krauss - Jacob's Dream (2007) Album and DVD
Alison Krauss - Away Down The River (2007) Album and DVD
Ron Block - Doorway (2007)
Mark Newton - Stillhouse Road (2007)
Pam Tillis - Beautiful Night (2006)
Gina Jeffries - Never Mine (2006)
Mark Erelli - Undone (2006)
Dave Peterson & 1946 - Here In The Mountaintops To Roam (2005)
Sarah Masen - Home (2001)

 
*******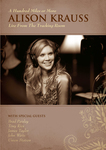 As featured on GAC, Julie's songs are also included on the DVD A Hundred Miles Or More by Alison Krauss along side an interview with Julie and John Pennell about the writing of Jacob's Dream.  

RECORDS JULIE HAS SUNG ON RECENTLY:
SARAH SISKIND- "SAY IT LOUDER" & "NOVEL"
SHANNON WHITWORTH'S - "WATER BOUND"
THE CHOIR AT YOUR DOOR- "CHRISTMAS CD"
NATHAN PHILLIPS -" POSTCARD"
WILL KIMBROUGH'S - "THREE ANGELS"
NATHAN BLAKE LYNN'S -"WHO SAID THE WORLD'S FAIR"
QUOTE'S- " A DEEPER GREEN"
JARS OF CLAY'S - "THE SHELTER"
PETER COOPER and ERIC BRACE"S - "MASTER SESSIONS"
PETER COOPER'S - "THE LLOYD GREEN ALBUM"
ANDREW GREER'S - "GONE ARE THE DAYS" & "ANGEL BAND -THE HYMN SESSIONS"
THAD COCKRELL'S- "OH TO BE LOVED"
SARAH MASEN'S -"DREAM LIFE OF ANGELS"
OVER THE RHINE'S- "LIVE FROM NOWHERE #4"